This page will show you my shack,

and the equipment that I have. I also will be

showing pictures of the antennas that I have

and the Hugo receiver and antennas

for the MAGIC 145.17 repeater system.

First off we will show you a picture of the shack.
The top rig is a Yeasu FT-950 for HF and6 meters.
The external speakers are two Yaseu SP-5 speakers.
The SWR meters are Daiwa.
The lower rig is a Yaesu FT-847 for 2 and 440 FM and SSB.
The rotor is a Yeasu G-450 xl.
The mic is a heil Goldline mic with a boom mount.
Next we have a picture of the antenna farm.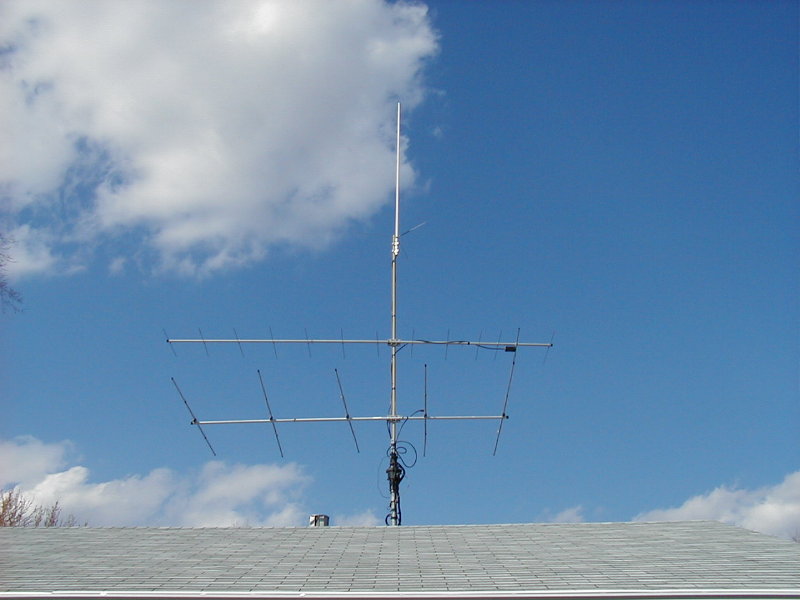 We have a 5 element 6 Meter Yagi followed by a 13 element
13b2 turned horizontal and a tri band omni for 6,2,and 440 fm.
Next is a picture of the Hugo receiver for the MAGIC 145.170 repeater in Saint Paul.
The unit is a Motorola GR400.
The upper left is the Repeater Interface which is a HIM 3333B controller.
The lower left is the 144.570 receiver which is a Motorola Max Trac.
The lower right is the 440 link transmitter which is a Motorola Radius.
The small box on the top right of the cabinet is the Morse CWID-50b
The black box in the far left back of the cabinet is the Motorola 10A power supply.
Next you will see the antennas used for the receiver.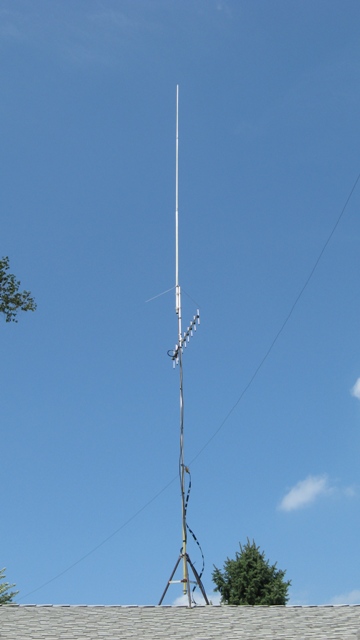 The omni is a Diamond duel band 2/440 antenna
used to receive the input frequency of the repeater.
The small beam is the 434 link to St. Paul where the receivers are located.
I hope that you enjoyed this showing of what I have here at the shack. Tnx, 73 n0sbu George.
E-Mail George.
n0sbu@arrl.net